Floral Chandelier Tips
Chandeliers have been a symbol of elegance and luxury since medieval times. Like a bright, burning star, they draw one's gaze upward, illuminating the room without detracting from the surrounding beauty.
These characteristics extend to floral chandeliers and make them an appealing option for weddings and other special events. Another reason to suggest a floral chandelier is to avoid large centerpieces on tables that become visual obstacles. Floral chandeliers can also be a beautiful and resourceful way to conceal unattractive venue features.
A floral chandelier instantly adds drama and visually impacts the venue without taking away from the overall aesthetic.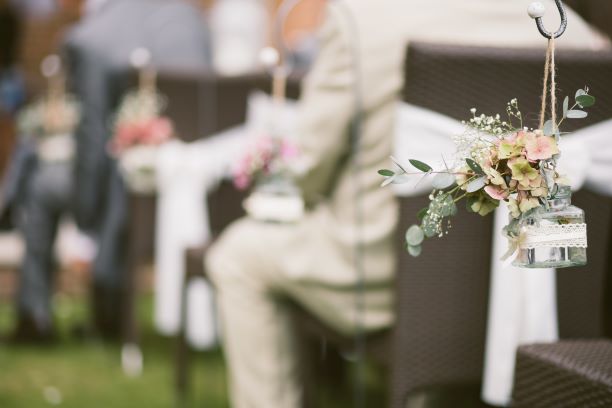 The Tools and Mechanics
Anything suspended from the ceiling needs framework. Your framework can consist of metal or wooden dowels. For a more lightweight option, consider bamboo.
Premade floral foam pieces in cages or frames can be used. You can place flowers directly into it or suspend floral products from wires pressed into the foam. If flowers are sticking into the foam, saturate the foam sections with water to allow your flowers to stay hydrated. Use glass water tubes to hydrate flowers hanging below.
If you desire more control over your design or need a custom frame to fit a specific space, create chandeliers with chicken wire frames. This gives you the option to make any size and shape you desire. Cover the chicken wire with foliage then place the tubed flowers into the wire.
Aluminum, flat and other wires can also be used for the frame and for maintaining the shape of your design. Floral wire and tape are essential for securing your designs. With some designs, fishing line can also be used.
Some venues already have chandeliers. For these locations, the structure is already in place. Make sure the stems you plan to add are not going to add too much weight. Keep everything you add away from lightbulbs or wires. Once you know where you want them to be placed, secure the stems with string or wire.
Even if the location does not have a chandelier in place, using a room's natural features as a starting point can help your design take shape in a way that works with and enhances the space. Anything you use to hang your design must be cut the same length, so the design is balanced and hangs evenly.
High-end event production companies have teams that build, weld and customize framework for ceiling installations, but smaller designers, on a budget, can get creative by using something as simple as a hula hoop, a handmade wire wreath or both attached as the foundation of the design.
Style Suggestions
When a floral chandelier is part of the overall décor, the piece becomes a primary aspect and focal point. As a result, it should blend well with all other designs in the room.
Since a floral chandelier is a statement piece, the space below should not be decorated with anything large enough to compete with the chandelier. Any arrangement below it should be elegant, uncomplicated and seamlessly coordinated with the chandelier.
Flowers and Greenery
Flowers can hang from the frame, or the frame itself can be wrapped with flowers and foliage. For a floral chandelier, garlands or leis that are easily bound to your frame simplify the process. When using garlands, even for a floral chandelier, start by attaching the garlands and wire the flowers into it.
Any flowers you select should be fresh, blooming and able to withstand long periods of time without water. When buying your wholesale flowers, longer stems will make it easier for them to be attached to your design.
If your chandelier has layers or tiers, you likely won't be adding flowers to the top tier and can instead use foliage to give it density. Fill in the top first then move to the bottom layers, which are the most visible. Greenery should be added before florals. Entwine the flowers into the greenery and distribute them evenly.
Some people opt to go with foliage or grasses instead of florals. Foliage chandeliers need a center point or center framework. Mixed foliage garlands like magnolia and eucalyptus are perfect for foliage designs. For foliage, set it in place using wire and tape to make sure it stays the way you arrange it.
Once your flowers and greenery are in place, check for blank spots or gaps. Use small flowers, vines or add more greenery to fill in any empty spaces.
Other Hanging Floral Options
Smaller budgets can still accommodate hanging flowers. If a large floral chandelier is too much of an expense, hanging floral centerpieces is a way to make the space more dramatic. Some other options for creating the foundation for smaller hanging florals are planters, pots, wreaths and bird cages.
Practical Tips
Not every venue will be suitable for a floral chandelier or hanging floral installation. The venue must have high ceilings and structures from which to suspend your design. However, for venues where beams make for easy suspension or places that already have a chandelier you can simply decorate, a floral chandelier is an elegant statement piece that will not sacrifice table space.
Of course, the venue must allow floral chandeliers and give you access to the location while you are designing your piece. Floral chandeliers can take several hours to assemble on site.
The room should be a cooler temperature to keep the flowers from wilting. Avoid hanging your floral chandelier in direct sunlight, close to windows or near heating and cooling vents, if possible.
Because of the number of flowers used, floral chandeliers can take a sizeable portion of some budgets. If the chandelier becomes a burden to the budget, encourage local and in-season florals. Additionally, you can use more foliage to add depth and more affordable fresh blooms like carnations. Permanent botanicals added to a chandelier are another lightweight, budget-friendly option.
The prospect of designing a floral chandelier is much less daunting when you have the right materials. Whether you need the structure for your design, greenery, florals, or the tools, our wholesalers at Hardin's Wholesale Florist, Inc. in Liberty, NC have the supplies to make the dream of a floral chandelier come true.