Homecoming vs. Prom Design How-To's
It's a flashback in time. As a florist, prom and homecoming are still very much on your mind, as they are two peak selling seasons. These nostalgic pastimes remain in hearts, minds and photos for years to come. With that in mind, it is best to properly prepare for what is to come.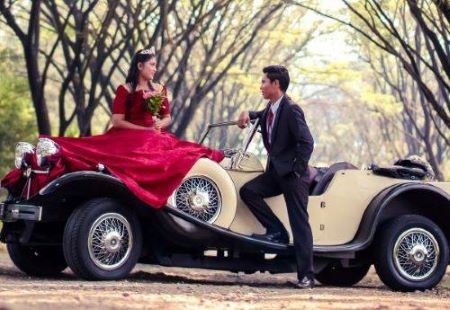 The Differences Between Homecoming & Prom
In order to properly design and properly prepare for both events, you'll need to know what distinguishes the two. This topic is a bit "up-in-the-air" with florists, as the design elements are relatively similar, but there are some differentiating factors.
Homecoming
Homecoming flowers are dedicated to school spirit. This may be what differentiates them the most from their prom counterpart. Homecoming often involves a homecoming dance that is surrounded by a big football or basketball game, a homecoming court and several pep rallies. This event is not limited to seniors in high school, and it is celebrated among many grade school ages.
Your floral approach to homecoming should have coverage in each area. Depending on the area or schools in which you will design, homecoming flowers can focus on displaying school spirit (i.e. Texas' Homecoming Mums) or as an accent to a person's homecoming dance attire (much like prom).
Homecoming Design Musts
When it comes to designing for homecoming, you'll need to keep a few floral styles in mind. There may be a presentation of bouquets to the homecoming court, a selection of bouquets that are handed out at the crowning for the dance and of course, corsages and boutonnieres for homecoming dates. There are so many opportunities for any retail florist to have their work displayed in front of anyone participating in homecoming festivities.
Often, homecoming designs for the dance or the homecoming court are requested to be in team colors or similarly styled for consistency. The corsages and boutonnieres given to dates vary among each pair but be sure to take into consideration what is popular in your area.
Prom
Prom flowers are more complicated, more expensive and more personalized than homecoming flowers. Rightfully so, as it is the more formal event with much more likelihood for changing trends and styles.
Your floral approach to prom should focus on getting ahead of your competition. Preorder sooner. Advertise sooner. Push your designs on social media more frequently. Prom is more competitive due to it being considered a more crucial social affair. This could be due to the pressure of departing your high school years in a fun, beautiful and extravagant way.
Prom Design Musts
This generation of prom-goers cares more about embracing diversity than ever before. Taking some older styles, designs and florals and pushing them as new can give you a competitive edge.
Yes, traditional styles are still relevant but giving options for creative freedom is important. Pinterest boards are a florist's biggest nuisance during these busy times, as it can, at times, give our consumers unrealistic expectations on what is available or trendy for the time.
With these obstacles in mind, it is better to get in front of the challenge placed in front of you. Have examples ready for your clients to preview when they come in the door. Remember, your name is going to be on whatever design they choose. You should be proud of the final product. Prepping ahead and showing what is available for customizing will help keep your designs up to par with your standards and still leave your younger buyer satisfied with the result.
What Applies to Both Homecoming & Prom
There is usually a committee or board that handles the business for both homecoming and prom. As a florist, it is smart to build a relationship with those committees in your area to ensure you are ahead of these events.
Work with the school committees, specifically for homecoming, and your wholesaler on coordinating a setup with booths to showcase your products. This can help with knowing what to preorder when it comes to the essential colors, ribbons, accents, lettering and possibly centerpieces for the tables.
Applicable to both but specifically for prom, wholesalers can assist in offering mixed boxes of products, accessories (ribbons, wire, jewelry), wearables, greenery, items for delivery and storage (corsage boxes, headpiece accessories or bouquet boxes) and other hard goods. It helps to expand your design horizon and possibly save you some money.
Be sure to order any of your flowers at least 5 weeks in advance. Due to the demand, orchids and pink and white roses are consistently requested and need to be ordered with adequate time to make it to your shop, specifically for prom.
Be careful not to give away too many secrets or options. You don't want committees to go to your competition for quotes on lower pricing. Show possibilities for design but give nothing in writing until a deposit is made.
Additionally, work on partnering with local businesses across your area ahead of these peak times. Exchange business information, cards and photos of your product to be displayed for further reach. Word of mouth and local support are crucial for these community affairs, even for our younger consumers.
Host in-store events to show new trends in prom flowers or alternatives to better increase your event sales. Any involvement you can get with your younger consumers will give you a much-needed competitive edge. Turn it into a fun opportunity for a night out with friends or "high school" night during these homecoming and prom seasons. When they feel involved, they are more likely to commit to you.
Our wholesale team at Hardin's Wholesale Florist, Inc. in Liberty, NC is here to help you get ahead of the how-to's for homecoming and prom season. Get ahead of the game and of the night by being prepared and staying up to date with what works for your brand and your shop.